Chicks' overall survivability starts from Day One (Webinar)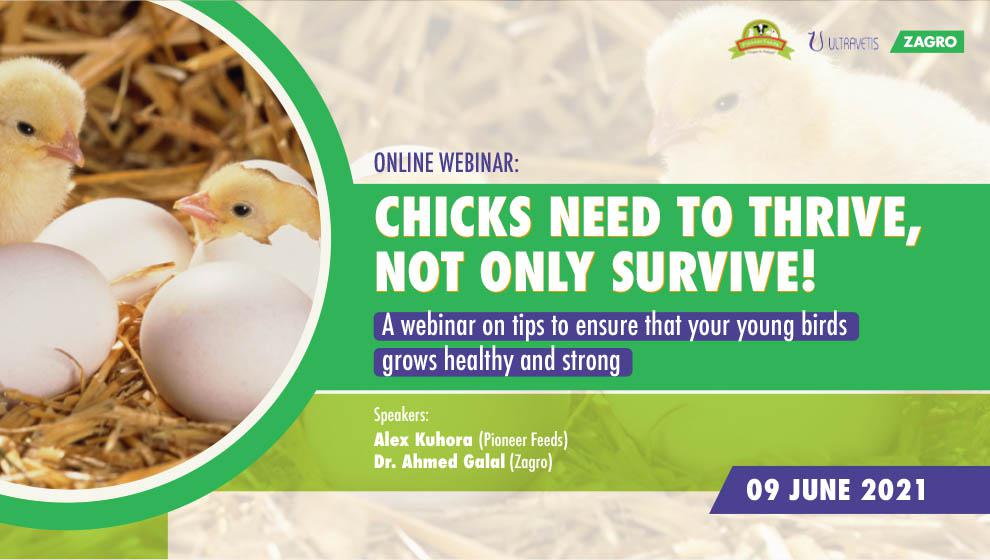 On 09th June 2021, Zagro hosted a Zoom webinar session.
The session had 160+ registered participants from various countries.
The invited speakers were Zagro's Egypt and business development head, Dr. Ahmed Galal, and a technical representative from Kenya-based Pioneer Feeds, Mr. Alex Njuguna, who covered the core topics discussed revolved around the various solutions to manage the overall health and condition of the day-old chicks (DOCs) are being closely monitored in order to minimise the occurrence of diseases.
One of the key highlights of the training webinar was an introduction to Zagro's most highly touted water-soluble based multivitamins product including Zagrosol AD3E and Zagrosol Aminogen by Dr. Galal. Both Zagro-branded products are commonly used to minimise vitamin deficiencies, thus ensuring that the overall quality of the poultry produce is well-maintained.
The next speaker from Pioneer Feeds Mr. Njuguna also walked through with the participants on the various types of poultry produce, including breeders and broilers. He also touched on the importance of the development of good quality farm practices, including the constant monitoring on the quality of the poultry feeds which will ensure that the overall health and quality standards of the poultry produce are well met.
The webinar session also saw an engaging audience with several questions being posed, and the panelist speakers addressing them with high professionalism.
It is hoped that through such interactive webinar sessions, Zagro is able to help our customers solve their farm-related issues. Our range of products/solutions are focused in protecting the well-being of the livestock of our customers/vendors, and the food that we as human beings consume ultimately.