Animal Health
Phytosolution for Healthy Liver Function
The demand of organically produced animal products is now increasing thus the use of naturally occurring ingredients to improve animal health and farm productivity is now more accepted. With increasing price of feed ingredients, enhancing farm productivity by improving feed utilization has become a core issue.
The liver, being one of the most vital organs of the body, constitutes the lifeline system of animal. This organ plays a major role in the digestion, metabolism and utilization of feed nutrients. Being the centre of a number of digestive, metabolic and productive activities, the liver is ever endangered by microbial and chemical toxins. These toxins may cause varying degrees of damage to the liver and affect its functions, thereby resulting to poor health and and lower production performances.
Nature on the other hand provides many herbs that are shown to exert beneficial actions on the liver. Combinations of these herbs are available for use in animal production, which can be used as feed additives and oral liquid to prevent liver disorders, and as an aid to improve feed utilization, thereby improving farm productivity. Below is the list of important plants extracts that tops in aiding healthier liver function:
Andrographis paniculata: The major phyto constituents are Andrographolide and diterpene lactone. Andrographolide and diterpenes are hepato-protective and hepatic stimulant agents. These compounds possess choleretic (stimulate bile secretion), anti-inflammatory, anti-diarrhoeal, immuno-stimulant and anti-oxidant activities. Besides being a liver tonic, it is a potent immuno-stimulant; it can be used to improve immune response to vaccination and infections.
Boerhavia diffusa: The constituent of this plant is Punarnavoside, an antifibrinolytic glycoside. This plant possesses potent anti-fibrinolytic and anti-inflammatory properties. Its extracts also exhibit diuretic and hepato-protective activities.
Picrorhiza kurroa: The constituents include iridoid glycosides, picroside I and kutkoside. This plant is known to possess hepato-protective, anti-hepatotoxic, choleretic, anti-oxidant and anti-inflammatory activities. In addition, the plant is a potent immuno-stimulant for both cell mediated and humoral immunity.
Chicorium intybus: This is also known as Chicory. It acts as a potent anti-hepatotoxic, hepato-stimulant and cholagogue. It is known to be useful in the treatment of jaundice, fatty liver, depression of liver, biliary stasis as well as enlargement of spleen and liver.
Phyllanthus niruri: Plants of the genus Phyllanthus have been used widely by traditional medical practitioners for the treatment of jaundice and other liver disorders. The plant extract consists of phyllanthin, triacontanel and related compounds that have stomachic, hepato-protectiveand anti-hepatotoxic activities. Phyllanthusniruri also possesses anti-viral activity, which is believed to reduce viral replication. Phyllanthus niruri is also known as "Stone-breaker", as it is also used as an herbal remedy for urinary calculi (it reduces urinary calcium). Hence, in poultry, it can help prevent and control one of the most common diseases – Gout.
Zingiber officinale: Possess immuno-modulatory, anti-apoptotic, anti-hyperglycemic, anti-hyperlipidemic and anti-emetic actions.
Curcuma longa: Possess neuroprotective,anti-inflammtory & anti-fungal activities.
Eclipta alba: The leaf extract is considered a powerful liver tonic and rejuvenative. It is an established hepato-protective. The plant extracts exhibits anti-mycotoxic and anti-haemorrhagic activities. It also has profound anti-hepatotoxic activity, which is attributed to wedelolactone and demethylwedelolactone, which are the major chemical constituents of Eclipta alba.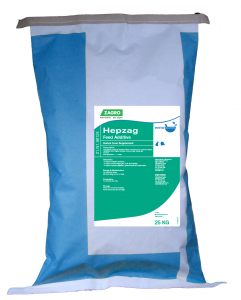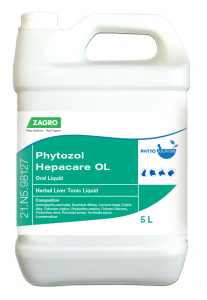 Zagro's phytosolution based liver tonic feed additive and oral liquid products called Hepzag and Phytozol Hepacare OL are both formulated to achieve the synergistic combination of Andrographis paniculata, Boerhavia diffusa, Picrorhiza kurroa, Cichorium intybus,Phyllanthus niruri, Zingiber officinale, Curcuma longa, Eclipta alpa.
Rich in phytochemical actives traditionally known for hepatoprotection, Hepzag and Phytozol Hepacare OL both aid in improving liver health thus improving the overall performance and productivity of farm animals.